River Pub
Lokacija
Frana Supila 12
Rijeka
Croatia
45° 19' 42.456" N, 14° 26' 30.6888" E

Javascript is required to view this map.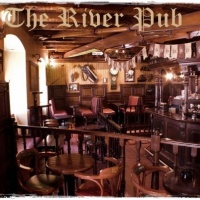 RIVER PUB otvoren je od 1997. godine kao klub za urbanu sredinu. River Pub idealno je mjesto za zabavu i jedan od najljepših pubova u Hrvatskoj. Nalazi se u samom centru Rijeke, nedaleko od pješačke zone popularnog Korza. Uz simpatično osoblje karakteristika današnjeg River Puba je da se gosti osjećaju opušteno i zadovoljno uz bogatu ugostiteljsku ponudu i raznolik zabavni program...
Ako dušu države čini njezina prošlost, dušu grada čine kavane, restorani i barovi. Hrvatska i Irska su države slične povijesne sudbine, pejzaža snova i sličnog oduševljenja lokalima - u Irskoj poznatim pod mističnim imenom "pub".
Sa "smaragdnog otoka" dolaze nam najrazličitije legende vezane uz Kelte i pivo. Kelti koji su jednom davno živjeli na području današnje Rijeke, dali su ime i Trsatu, jer Tarsa je "brdo uz koje teče rijeka".
Oni su bili poznati i po jedinstvenom običaju da sahranjuju mrtve okomito. Obično se to objašnjava potrebom ratnika da dočekuju dan Strašnog suda na nogama, no možda je ipak razlog bio u njihovoj vezanosti uz šank.:)
"River Pub" Vam nudi mogućnost da se uvjerite da je nešto keltskog duha očuvano podno kaštela Trsat, u pubu u kojem je sve najbolje - od ambijenta preko posluge do irskog piva.
U najboljem lokalu su i gosti najbolji, a to ste Vi !
YOU ARE ALWAYS WELCOME
THE RIVER PUB TEAM